Our Swansea Branch of The Mark Jermin Stage School is held at the company's Headquarters in Swansea at our very own studios: Venue No.1
Our classes run IN PERSON every SATURDAY, 
with 2 Options of Class times for each group
JOIN US AS WE CONTINUE TO WELCOME NEW and RETURNING  STUDENTS THROUGHOUT OUR NEXT TERM… 
NEW STUDENTS can also partake in our:
Click above for more details and to choose a class for you to try !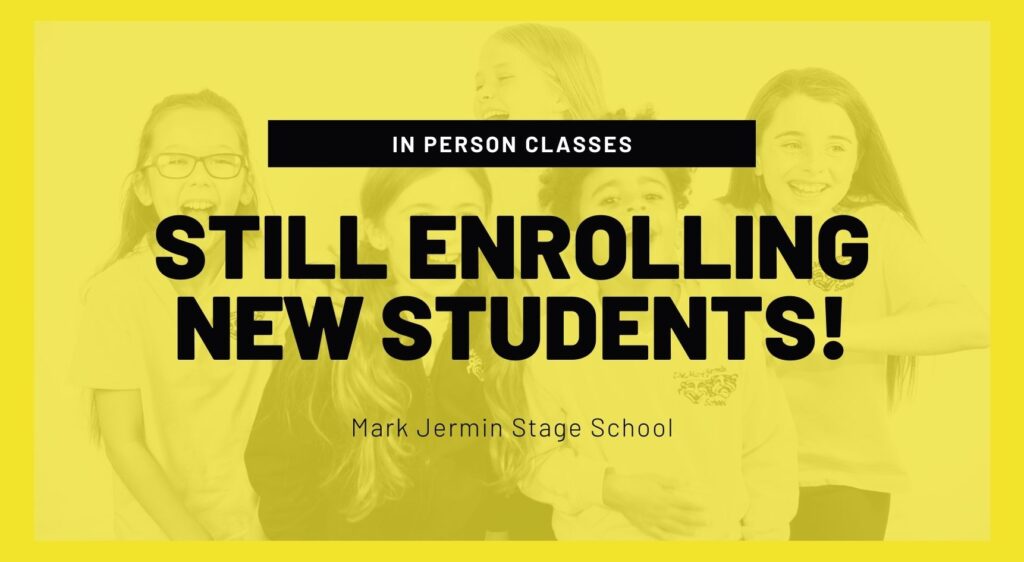 The Mark Jermin Stage School Swansea continues to train and develop the careers and build confidence in Wales' most exciting up and coming talent. 
Our "In Person" classes are high energy, innovative and dedicated to getting the best out of each and every individual. Through a variety of exercises, projects and performance pieces, the students gain their performance skills, develop confidence and best of all, make new friends and feel part of a unique and welcoming community.
Our tutors are always on hand to assist students with anything they need and also work with the students to design a creative and challenging class that all students no matter what their background or performing experience can find motivating and enjoyable.
In each class, we aim to explore at least two of the three main disciplines meaning each students will leave the class having developed at least two skills. This balance is determined by what projects or performances the class are working towards and also what specific areas the class may enjoy or need to develop further. 
Classes are catered in the following age groups:
Juniors (4 – 7 years)
Intermediates (8 – 12 years)
Seniors (13 years and above)
When and Where?
The Mark Jermin SWANSEA Branch runs Termly every Saturday Morning and Afternoon. We have a number of sessions throughout the day to hopefully fit in with your schedule.
 The classes are split into the following age groups to run at the following times:
Juniors :  10.00am – 11.00am OR 2.00pm – 3.00pm (Sat)
Intermediates : 11.00am – 12.30pm OR 3.00pm – 4,30pm (Sat)
Seniors : 12.30pm – 2.00pm OR 4.30pm – 6.00pm (Sat)
The Swansea Mark Jermin Stage School Classes are held at:
Venue No.1, 995A Carmarthen Road, Swansea SA5 4AE
The Next 2022 Term runs:
SATURDAY 16th SEPTEMBER – SATURDAY 3RD DECEMBER 2022
.FEES:
Fees for all classes and courses at Mark Jermin are to be paid in advance.
£80 for a Junior Term
£120 for an Intermediate or Senior Term.
 You can book by completing the form below and paying directly or contact our team ([email protected]) for information on how to pay via Bank Transfer
When the Term has already started we calculate any missed weeks on a pro rata basis so you only pay for the term  from when you joined. 
NEW STUDENTS:
The current term running at present can be joined by any NEW STUDENT. If you're confident that you're happy to fully commit to the remainder of  Term, please complete the form below and pay the class.. Our team will then be in touch with the class information.
Or feel free to check out our New Students and Trial Taster Period info here offering students a series of trial classes with no large contract or commitment or  cost.
PAST / RETURNING STUDENTS WHO ARE YET TO JOIN THIS CURRENT TERM:
For  any returning or new students wanting to rejoin and return to classes just let us know!  The next Term is available to book. You can fill out your details below, book and make payment and the team will look forward to having you back in class!
HOW DO I BOOK? 
To book your place in class please complete the form below. To ensure your place in class is secured, students must pay any fees in advance of  ahead of attending the first session. Payment can be made by completing the form below and being taken to our payment page OR you can get in touch with our team to pay over the phone or via a Bank Transfer payment.  
SIBLING DISCOUNT:
For details of sibling discount, please contact our team: [email protected]
Mark Jermin Management:
Every student who attends our In Person Mark Jermin Stage School sessions will have the (optional) opportunity to be represented by Mark Jermin Management, the Uk's leading Youth Agency for Young Performers. More information on Mark Jermin Management can be found here
GIFT VOUCHERS
Gift Packages and Gift Vouchers are also available for all our Students. Please visit our Gift Voucher page here or please contact our team on [email protected] to request these.
Keeping You Safe.
Keeping Students, Staff and Parents and families of our students safe is our upmost priority. Read here for our Health and Safety info. 
Sept - Dec 2022 Term: NOW OPEN FOR BOOKINGS
Book your place in our Junior class (4-7 years) at Mark Jermin Swansea
Sept - Dec 2022 Term: NOW OPEN FOR BOOKINGS
Book your place for Intermediates or Senior Classes at Mark Jermin Swansea