Student Success Stories: Lead role in the Hunger Games for Kaitlyn!
We were already having an incredible month for Student Success at Mark Jermin, with so many epic opportunities for our talented students – and then right at the end of the month the brilliant Kaitlyn Akinpelumi blew us out the water!

We can now reveal Kaitlyn has been chosen for a lead role in the upcoming Hunger Games prequel – The Ballard of Songbirds and Snakes – such a huge achievement and we're so very proud of her. She's mentioned in this  article by the US-based Deadline (with a Mark Jermin mention too, which was very nice of them!).

The latest instalment in the billion-dollar Hunger Games franchise hits screens in 2023 and we can't wait to see Kaitlyn light it up with her MJ magic!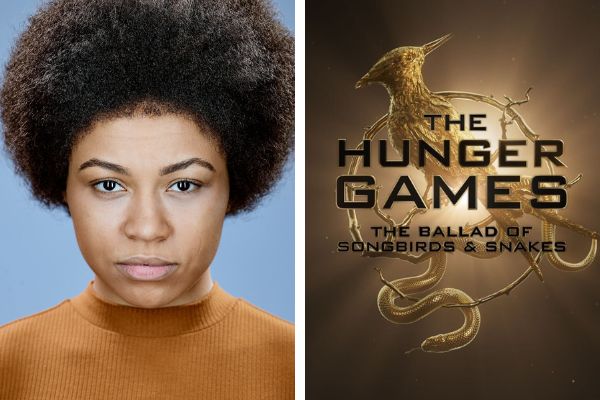 With the end of this term coming to a close before we start up Industry Week later in July we've also got a lots more success to tell you about. Here's what our students have been up to 
EVIE ROSE ROBINSON (pictured): Major commercial campaign filming abroad in Slovakia for a huge transport brand
MACE PHONEIX: Landed a role in brand new short film 'Crosshairs'

MOLLY PEPPER TUER: Children's Salon commercial campaign

MYLA STEVENS, BILLIE STURROCK, CONNOR FOWLER: McDonalds major television commercial campaign which will be realised all around the UK
AMEN MUSTAPHA (pictured): Major television commercial campaign for GoHenry

CALEB PARFIT, LUCIA BRIDSON, BROOKE FINNIGAN, LLEW RODERICK LEWIS, ROWAN FERNANDO, SEREN BOWEN, THEA RAE, ACHILLIES FUZIER, AROOP SHERGILL: All have landed roles on a huge series called 'RainDogs' on a leading streaming service).
DEXTER ANSELL (pictured): Confirmed on a major NDA project (different one to above!) which we cannot reveal yet… however this is for a huge well-known franchise and is a life changing role!

BILLIE STURROCK: Confirmed on a major NDA project which we cannot reveal yet… however this also is for a huge well-known franchise and is a life changing role!

KIZZY MURRELL: Landed the role of Young Alline in the smash hit West End Musical in London 'TINA
The Musical' which is currently playing in Aldwych Theatre.
HELEN CHONG (pictured): Helen is 1 of 4 actors that has been selected to be an actor in a project named 'Four Models' in right Hats Think About The Future by Preti Taneja in Newcastle's LIVE Theatre

ELIN NEWTON: Has landed a role filming for Disney+ as Disney presenters which streams across
several outlets

EMILY-JO YOUNG: Filming for a television campaign for a bran releasing a nationwide campaign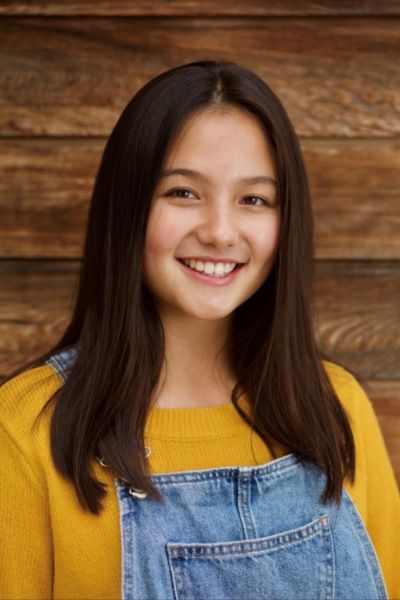 There are so many more, so here goes… not forgetting:
MADDIE CROFTS: Is filming for a brand-new feature film which is entitled 'Inherit The Witch'
TYLER EVANS, JACK HURLEY, OWEN JAC ROBERTS, LEWIS BROPHY, THEO ENTWISTLE, HUW HUCKSTEP, LLEW RODERICK LEWIS, MAX CICHON, TRAVIS JACK, NATHAN MARTYSH, LUCCA WHITELOCK, BEN THORNE, JAMES GLAZE, JAMIE OKEEFE, AMAREE ALI, CAI LUFF, LEWIS FORD, SAM FARMER: All of these students have been confirmed on an exciting ITV Series
CADENCE WILLIAMS: Has landed a role in the highly prestigious National Theatre which is the heart of London's West End in 'The Crucible'
HUW HUCKSTEP: Has gained a radio role recording for a project called Mighty Mouth Radio Show (that's in addition to the one above)
Brother and sister duo BROOKE FINNAGIN & LEO FINNAGIN have landed a role in an ITV Series
TOM O'CONNELL: Has landed a feature role in a brand-new McDonalds commercial campaign which is being released UK-wide.
LOTTE PEARL: Secured a role on a brand-new H&M commercial campaign which is a nationwide campaign.
MADELINE JESSON: Has landed a feature role in a brand-new major H&M commercial campaign which will distributed UK wide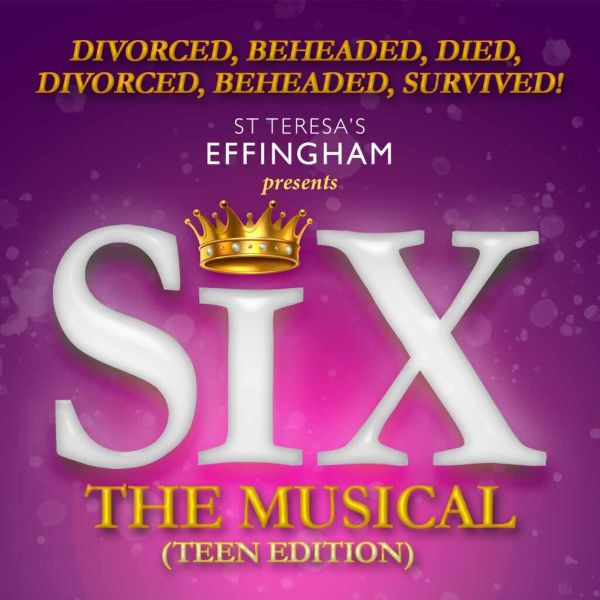 Now booking: Classes, courses not to miss

Last week we announced we're taking bookings for SIX – The Musical (teen edition), our October Half Term residential course spanning both St Teresa's and MJ HQ Venue No1 in Swansea. We've had an amazing response and places are booking up fast. Find out more here – early bird rates are still available!

The first of our three Industry Week's starts later this month and we have a handful of places left. Book now to launch your career with exclusive opportunities! Find out more here.

September enrolment has now begun – reserve your spots at our classes early. Book in the What's On section of the website.

Plus (of course!) our world-famous Monologue Slam final takes place on July 11 at the Other Palace in London. Grab your tickets here now!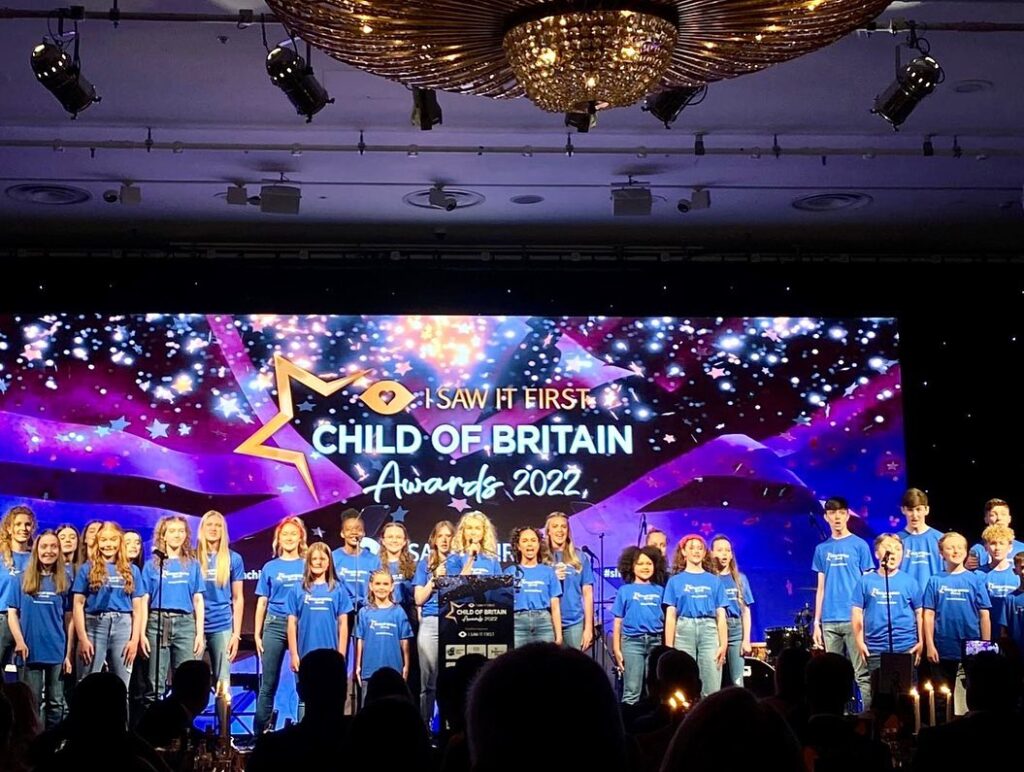 What else we've up to: Mark Jermin choir blows away Child of Britain audience

June will always be truly memorable thanks to the incredible experience we had at the Child of Britain Awards at the Grosvenor Hotel in London, where more than 30 Mark Jermin students travelled up to perform as part of the Child of Britain Choir in the 2022 Awards presented by Eamon Holmes with special performance guest Callum Scott.
Elsewhere, June has been non-stop! So take a deep breath and try to take this all in!
Disney's 'The Princess' trailer has been released featuring Mark Jermin student Katelyn alongside A-lister Joey King.
Mark Jermin students who featured in Halo game campaign has now been shortlisted in the highly prestigious Cannes Lions Festival of Creativity.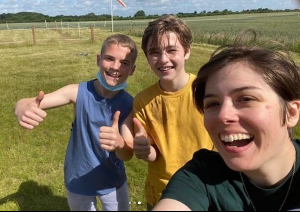 Student Raphael Vicars was filming for a brand-new feature film (check him out in the picture).
The new trailer for the brand-new Matilda movie starring Emma Thompson has been released. Several Mark Jermin students were a part of this movie
Images have been released for the brand-new Barbie Live Action film featuring Margot Robbie and Ryan Gosling and Mark Jermin student Eire Farrell has landed a role in this project.
The new trailer for the brand-new Matilda movie starring Emma Thompson has been released. Several Mark Jermin students were a part of this movie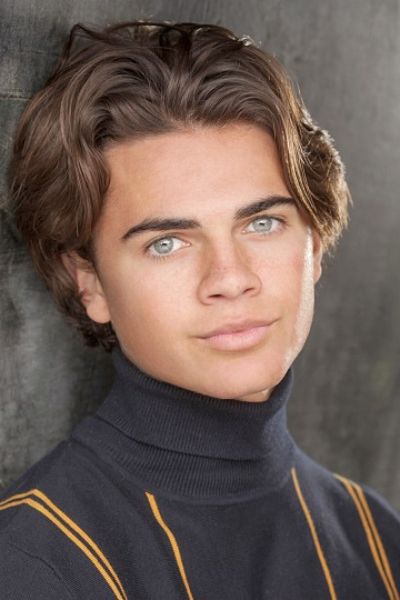 The Wednesday Netflix trailer released which stars MJ Student Oliver Watson (pictured)
James Craven attended the British soap awards alongside the cast of Coronation Street where he joined as a new regular in Feb
The School of Good and Evil teaser for Netflix has been released which features Mark Jermin clients Kaitlyn, Oliver and Abigail as lead feature roles
We cannot believe what a brilliant month it's been and summer has only just begun! For those we're seeing at Industry Week, we can't wait, and to everyone else we'll be seeing you in September!

Be your amazing self,
The Mark Jermin team