March is out and April is in...

It's that time again where our team are rounding up the month and celebrating all of our fabulous students and their success within the industry. This term our students have been storming the auditions and gaining role after role with offers coming through our office every single day!

We are so proud of each and every one of our students and all of their hard work and can't wait to share some of our standout student success for March…
PLUS SO MANY MORE….Head on over to our social media on Instagram or Facebook to view our latest success, casting opportunities & upcoming events!

@markjermin
@MarkJerminSchool 
AND REMEMBER… 

This month we're celebrating 30 YEARS of The Mark Jermin Stage School, and boy are we celebrating in style!

We're inviting ALL of our students and supporters to put on their best dresses and fancy suits and take to the red carpet as we celebrate in style at The Mark Jermin Awards Spectacular on the 9th of April!!


MJ GALA WEEKEND…
Here at Mark Jermin, we don't just do things in small… this is a BIG event for the stage school and so we're celebrating not just on one day but for a WHOLE WEEKEND!! Take a look at our timetable below for breakdown of all of the classes, workshops, courses and & sessions that YOU can get involved in…

simply click the link below to view the full information outlay!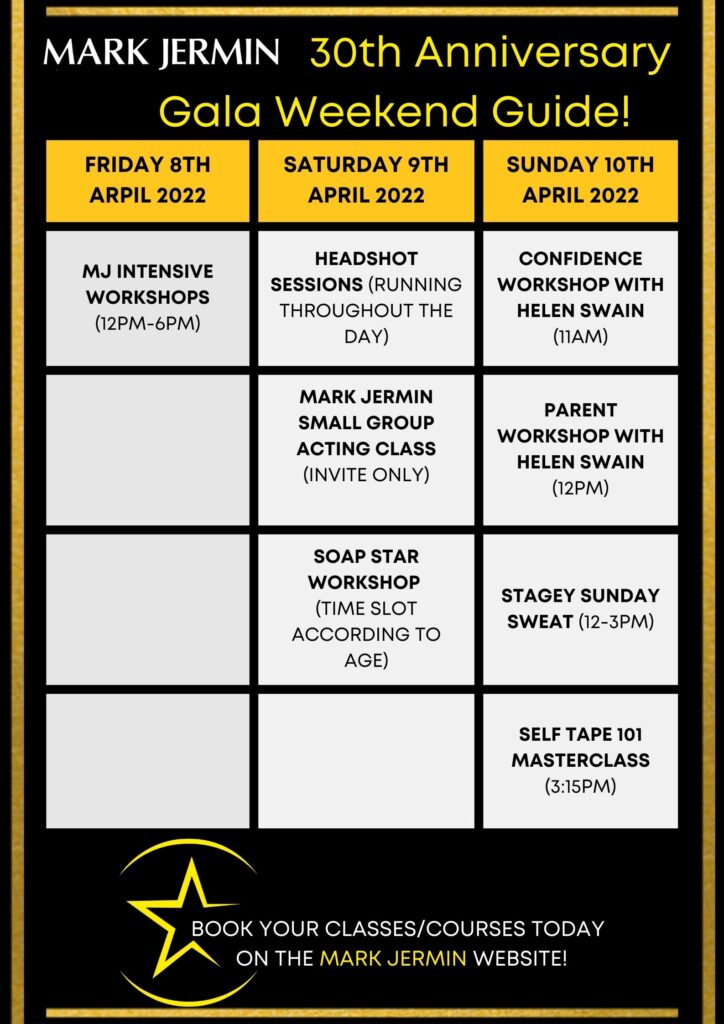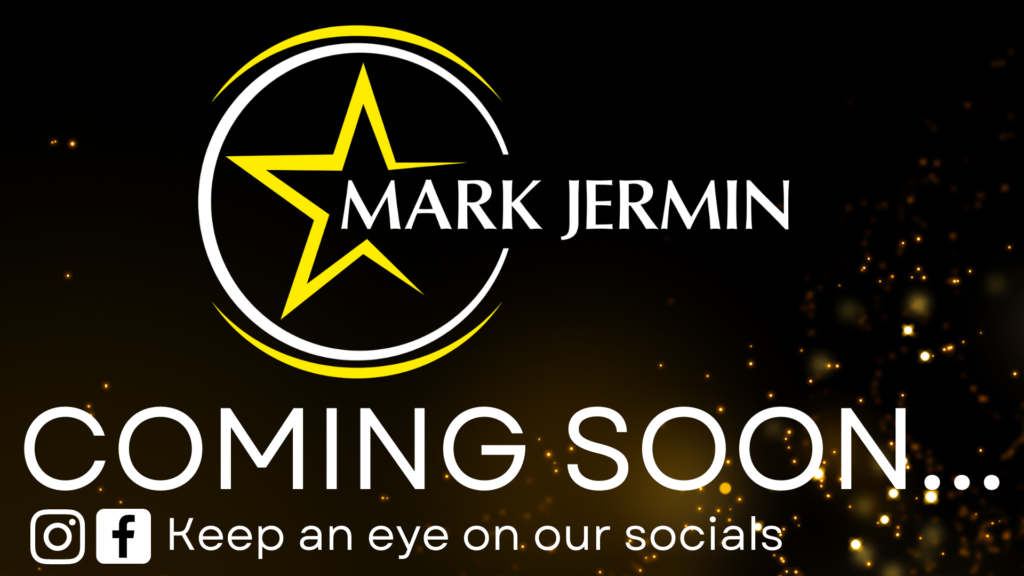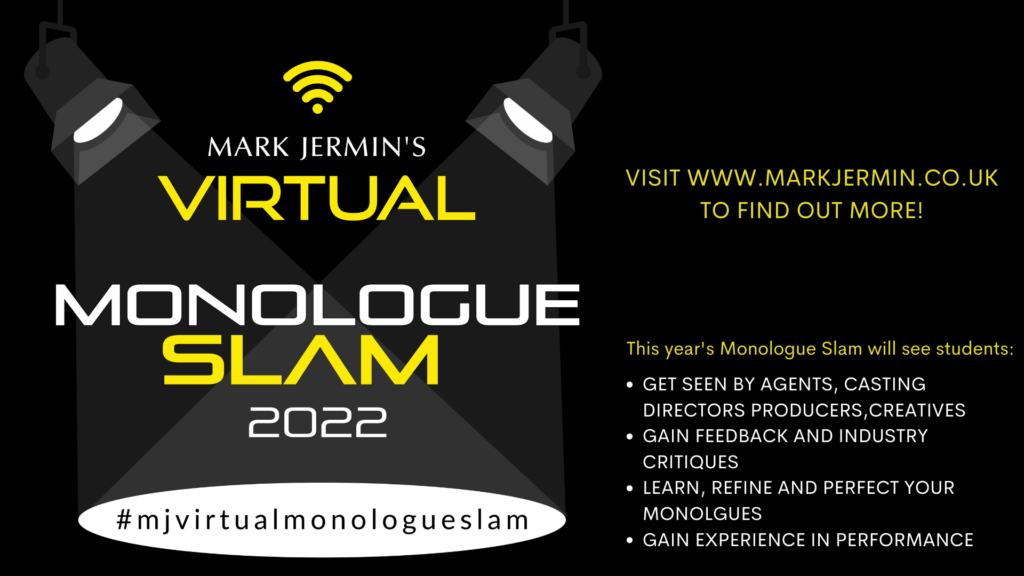 That's right… it's back… the return of…


MONOLOGUE SLAM 2022!


Monologue Slam 2021 saw both winner's and finalists go on to achieve amazing things such as jobs with production companies like Netflix, Apple TV, ITV, and so many more amazing projects that we can't wait to reveal. Monologue Slam also saw students get noticed by some huge industry pros with judges like:
Olissa Rogers –Fiona Weir Casting
Catherine Willis-  Casting Director
Sarah Counsel-Casting Director
Marta Noguera -Colin Jones Casting
Beatrice Ray -Casting Director
Isabella Odoffin- Casting Director
Ben Levine and Brad Stokes- Link Entertainment in LA
Kat Edmonds –HBO Entertainment
Charlotte Rogers – Senior Agent 
Andrew Phillips – Children's Agent

And with judges ALREADY signed up for this year's competition its set to be our best yet!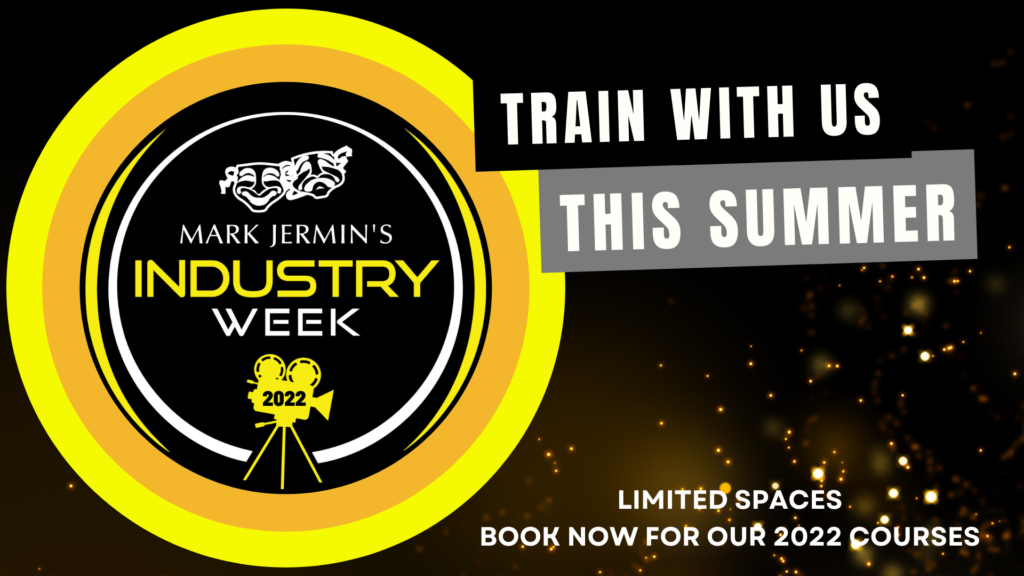 And don't forget- the fun doesn't have to stop when the term does because you can… 
 TRAIN WITH US THIS SUMMER AT MARK JERMIN!


YOU can gain access to:
-5 Days of Expert Training
-Script work and Self Taping
-Mark Jermin Management who are relocating to Surrey 
-Working Industry Teachers and Casting Directors
-Professional Headshot Sessions
-West End Show & Play Visits
-Agency Meetings, Q and As and Spotlight / Equity Info
-Audition Technique Workshops
-Full Time Residential Option & All Meals / Dietary RequirementsProvided
-Day Guest Options
-Community of creative wonderful diverse students who become life long friends

Plus… SO MUCH MORE!
However, places for this course are both extremely limited and in high demand so don't delay in booking yours!