An intense training programme where 100% of students get offered professional work opportunities and auditions. Classes are currently held at MJSS Headquarters in Swansea but Students from all over the UK can have access to our Online Jerminator workshops too.
The Jerminator classes have been created for our most passionate triple threat young performers.
This an intense training programme where 100% of students get offered professional work opportunities and auditions. Each class covers all performing arts disciplines (Acting, Singing and Dance) and students regularly are visited by West End and Broadway performers and creatives.
This is also an excellent way of preparing for the industry via the connection with Mark Jermin Management or for furthering their training in securing places at the UK's leading Drama & Musical Theatre Colleges.  The Jerminators is an affiliated Academy that directly connects its students to the UK's Top Drama and Musical theatre colleges and we have an excellent relationship with many of these colleges who actively support our Jerminator Programme, offer places at their Summer Schools and look at for their applications!
Past Jerminators are now regular West End Performers following training at RADA, Arts Ed, Mountview, GSA, Bird London, Royal Welsh College, etc.
Training under our Jerminators programme begins when students are 9 years old and runs until 24 years old.
There are 2 Branches of Jerminators:
"IN PERSON" JERMINATORS: With classes being split between our Junior Students (aged 9 years to School Year 7) and Senior Students (From School Year 8 and above) . These classes run at Venue No.1, Swansea.

Find us at

995A Carmarthen Road, Swansea SA5 4AE

JERMINATORS ONLINE: These elite workshops run via Zoom and are accessible to any Jerminator student who is unable to travel to Swansea for their monthly session. The classes are split into age groups and each session is themed and led by a West End performer or Industry Creative.
All classes are regularly visited by Guest Tutors including West End and Broadway stars such as Layton Williams, Joel Montague, Sophie Isaacs, Amy Ross, Lori Barker, Emma Caffrey, Jo Taylor Goodwin, Robbie Macmillan and Stephen Ashfield as well as Casting Directors, Musical Directors from West End shows and Industry Creatives and Contacts who will help students path a career of their own. 
For new students who would like to be part of our elite Academy  please contact our team: [email protected] or complete one of the forms below. 
All students attending either Jerminator sessions will need to book a Space ahead of each class / term.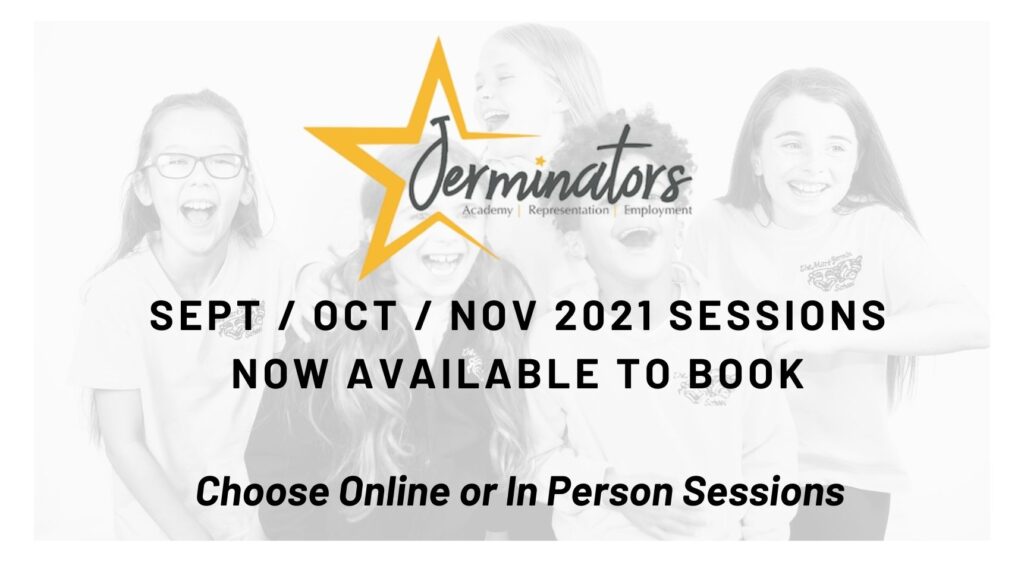 Our September class has now taken place, Students were treated to an amazing session plus 3 Casting Opportunities!!
If you missed out but want in, Our October / November Sessions are now available and will run at the following times:  
ONLINE Students: (GMT / BST: 10am – 1pm) You can Zoom in from anywhere to join our Musical Theatre inspired sessions
IN PERSON Students: 12pm – 6pm at Venue No.1 Swansea SA5 4AE
Jerminators Classes for this Term will run:
Sunday 24th October  2021
Sunday 21st November 2021
Times, Class Content, Workshop Leaders, Professional Guests, Scripts and Class Material will be sent to all enrolled students prior to each session. 
Jerminators : In Person {SWANSEA}
Book to join Jerminators in the Studio for Oct // Nov 2021
Jerminators : Online
Book to join Jerminators Online Sessions for Oct // Nov 2021