Book Your place on this all Singing, all Dancing, all Acting course for Summer 2021:
Runs from Monday 2nd - Friday 6th August 2021

The team at The Mark Jermin Stage School are excited to announce the much anticipated return of The West End in Wales Summer School that is set to hit our South Wales Stage for Summer 2021!
With over 25 years of experience, The team and creatives from The Mark Jermin Stage School are well rehearsed in delivering fun and highly engaging holiday courses that help nurture and inspire its students whilst providing expert training building skills in all areas of performing arts that help forge long lasting careers within the Arts Sector. And MANY Students make a successful transition into the professional industry!
If you want a creative, exciting and fun filled week of Musical Theatre, Acting, Dance and Singing masterclasses, workshops, opportunities and a stellar showcase, our 2021 South Wales Summer School:  The West End in Wales 2021 is the place to be!
During the past year many budding performers have missed out on being in the limelight, missed being amongst peers and missed igniting their passion in rehearsal rooms and theatre venues. This is a chance for seasoned students to get back to the stage and showcase their talents amidst other passionate performers, and an opportunity for newer students to give Drama, Song and Dance a try.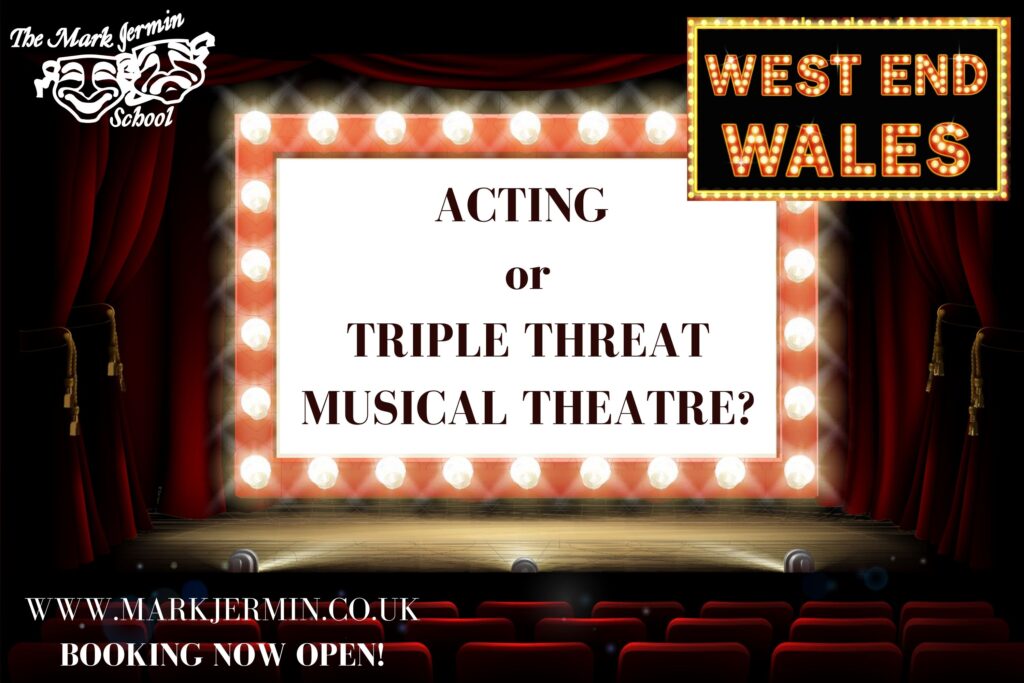 CHOOSE YOUR WEST END ROLE:
We are catering our Summer School with our students in mind. Students can choose to focus on the following avenues during their week with us:
ACTING FOCUSED
TRIPLE THREAT (Acting, Singing and Dance)
Simply tell us if you'd like to be part of our West End Acting Academy for the week or if you'd prefer to do it all with our Triple Threat Musical Theatre Programme! We will then cater the sessions for you accordingly to your preference!
JOIN MARK JERMIN THIS SUMMER:
Join Mark Jermin and his brilliant teaching team for the ultimate creative and performance filled week at Mark Jermin's flagship Theatre School in Swansea South Wales, as we provide students aged 7 to 21 years an all Singing, Dancing and Acting week long Summer course!
Join West End Tutors, Choreographers, Agents, Directors and Creatives in this  jam-packed week of stellar workshops, with West End stars and Acting royalty. Be part of daily Masterclasses with industry professionals, soaking up knowledge and tips and all students will be rehearsed and show ready for our infamous Summer School Showcase to celebrate the week's talent with a *live performance* in a state of the art Theatre at the end of the Course!
*Please note that for the End of Course Showcase, the Mark Jermin Stage School will adhere to all rulings in terms of live performances relating to Covid 19 and have several contingency plans should a live indoor Theatre performance not be permitted on 6th August. 
The West End in Wales 2021 will see students be given a truly unforgettable week in Performing Arts and is the perfect way to spend this Summer in Swansea for any aspiring young performer with a passion for Drama, Song and Dance!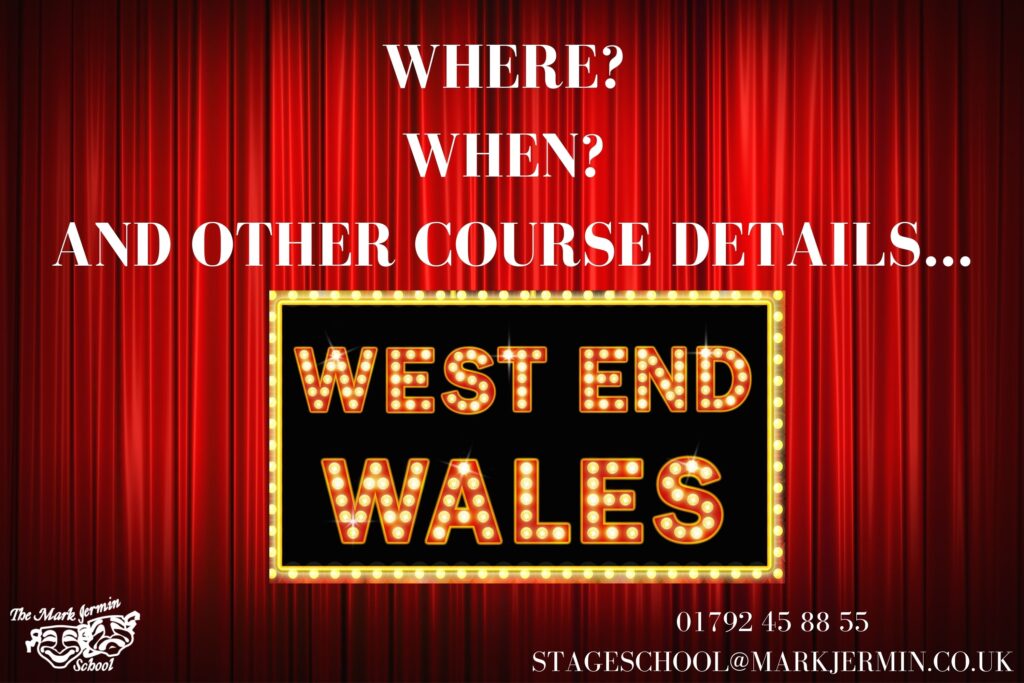 When is The West End in Wales?
The Training week consists of 5 days running from Monday 2nd to Friday 6th August. The Daily schedule will run from 10am – 4.30pm on Monday to Thursday with Friday 6th being a later finish due to the end of course Performance.
Where is The West End in Wales?
Join us at Swansea's newest Arts and Creative Hub: Venue No.1 in Swansea where Mark Jermin takes over the building for the week! Students will be free to explore the brilliant facilities including: 6 stunning open plan studios, an industry professional casting suite, recording studio and of course….Venue No.1's Studio Theatre with state of the art sound and lighting systems.
Alongside this, all students who participate in the summer school will have access to the covered weather proof Outdoor Theatre area at Venue No.1 for rehearsals, showcases and staging preparation.
The Green Room Cafe at Venue No.1 will also be open and available for all students to use daily where hot food, drinks, smoothies, and healthy meals are served all day!
What is Involved?
Each day will start with a daily warm up, games and fun exercises. Students will be split into age groups and will work on various West End plays, shows and material with West End performers who have an array of professional credits. Mark, Nia and the team are extremely well connected and have sourced the most exciting tutors for this year's Course! Every student will have the option to sing, dance and act in groups or individually and the rehearsal sessions will be split across all 3 levels and 6 studios within Venue No.1
End of Course Showcase
There will be an exciting WEST END IN WALES Showcase performed on the evening of the 6th August where every student will showcase their skills they've learnt during the week.  Depending on the number of students and rules and regulations regarding performances in Wales, the students may be split into "casts" and there may be multiple performances on the 6th August splitting casts and audiences in line with the Covid Safety measures. More Information on this will be given following Day 1.
Tickets for this end of course Showcase will be available to purchase from Tuesday 3rd August.
EVERYONE is Welcome!
We have an all encompassing policy at MJSS, and this course welcomes all students between 7 to 21 years and all abilities.. No matter if you're brand new to performing or if you've had lots of training and experience our team will aim to push and develop your skills at your pace. This course is open to past, present and returning students of The Mark Jermin Stage School AND If you are brand new to performing or acting or may be you have possibly heard about the school and Mark Jermin brand, this year's Summer School is an excellent taster and chance for you to experience what our school provides, and gives you the opportunity of working with Mark, Nia and the team. 
Professional Opportunities during The West End in Wales:
Mark Jermin Management (one of the UK's leading  agencies for Young Actors) is directly connected to The Mark Jermin Stage School and represents many of our students. The Agency Offices are based within Venue No.1 (where this Course will take place.) Whilst we can't predict exactly what projects may be around during our Summer School course, it is extremely likely that Students at our West End in Wales week will be offered the chance of professional opportunities, castings, self tapes and our in house Agency will be watching the rehearsal sessions and scouting talent!
West End in Wales – Covid Restrictions and Safety:
Our team will be preparing and delivering this Course under strict safety measures. These plans will be in place for the arrival of our Students and Guest Teachers and will be in line with the most up to date Government Guidelines at the time of the Course. Guidelines and Information on this will be sent to every enrolled student prior to attending the first day.
Fees and Booking
Booking The West End in Wales is now open and we predict that this course will be immensely popular after the year of no live performances and very limited studio time. The cost of the course is £175 which includes the 5 days of industry professional teaching, rehearsals and preparation for the Showcase, All tuition, masterclasses, tutors and workshops, and up to date Casting opportunities are included in the fee. Every Student will also receive a 2021 "Wales in the West End" memorial T Shirt.
Places are limited. BOOK NOW!
To secure your place, we ask for a £49 deposit to be paid upon Registration. This leaves a balance of £126 to be paid by 30th July 2021.  All fees must be paid prior to the course starting. 
If any student or parent would like an alternative payment plan to pay for the Course, please speak to our team, who will be happy to accommodate this.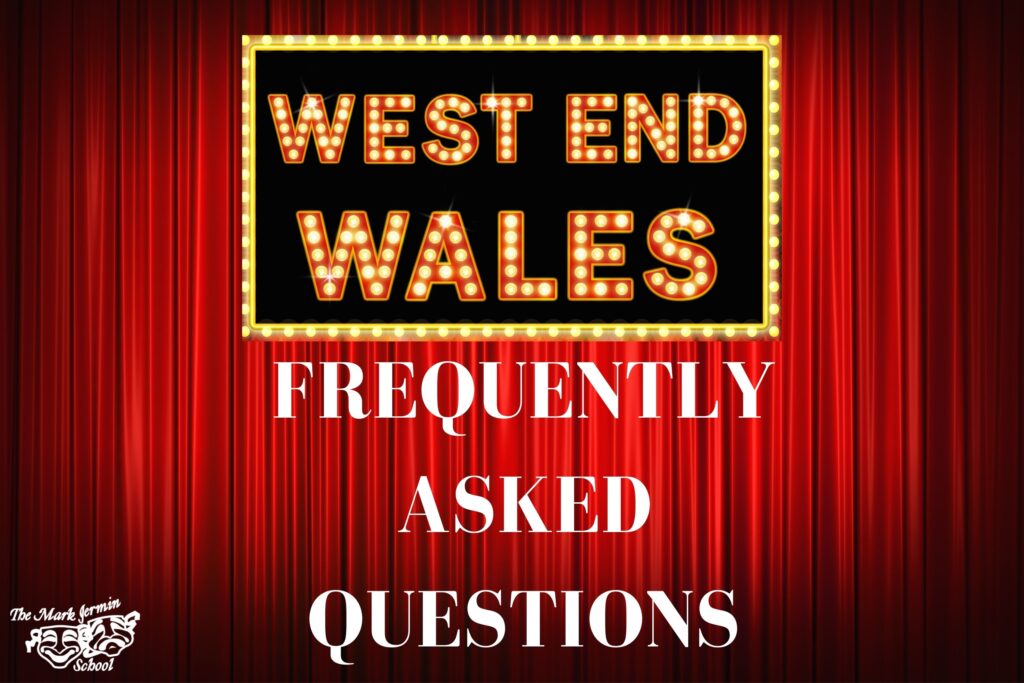 I don't currently attend a Mark Jermin Class. Can I still join this course? 
Yes! Our South Wales Summer School is open to new students. And open to students with lots or little experience in Drama, Music or Dance. Our team aim to cater for all levels and skill sets. Our students are the friendliest in the business and our whole team will ensure you are made to feel truly welcome. 
Where is Venue No.1?
The West End in Wales will take place at Venue No.1. Situated on Carmarthen Road in Fforestfach Swansea. This is a 5 minute drive from Junction 47 of the M4 motorway and an 8 minute journey from Swansea's City Centre and Railway station. The full address is Venue No.1 , 995a Carmarthen Road, Swansea SA5 4AE. 
I don't live in Wales… Can I still attend?
Whilst we don't have a Residential option on site, there are many affordable places to stay within the South Wales area. Our MJSS team may also be able to help partner you with a "hosting" family of another student for the week or we can recommend a place to stay. Please email [email protected] or complete the form below for more details and assistance with this.
I have multiple children who want to join… Do you offer Sibling Discount for the West End in Wales Course?
Yes. Please email [email protected] for more information on this discount or complete the Registration form below and mention this.
What happens if the Course is affected by Covid-19 Restrictions?
If for any reason the Course is not able to run in its full capacity due to new Government restrictions, we will adapt and cater to the best of our ability. If the Course is unable to run at all or affected by a Lockdown period, a full refund will be issued to all paid students.
If any student is personally unable to attend due to contracting Covid 19 or is having to isolate during the Course we will endeavour to refund your fee minus your deposit. 
Book Your Place on the West End in Wales Summer school here:
Complete the Registration form below to express your interest in the course. 
On completion of the Registration Form, you will be led to a secure payment page to pay a deposit of £49 to secure your place on the Course.