Welcome to our Penarth Classes
 The Mark Jermin Stage School runs weekly in Penarth led by Mark Jermin and an incredibly exciting and dynamic team!
Our classes return IN PERSON every FRIDAY EVENING in PENARTH. 
To join us for our September 2021 Term, please register your interest and book your place for our next term
Please complete the form below to register your interest and has the option of taking you straight to our payment page to secure your place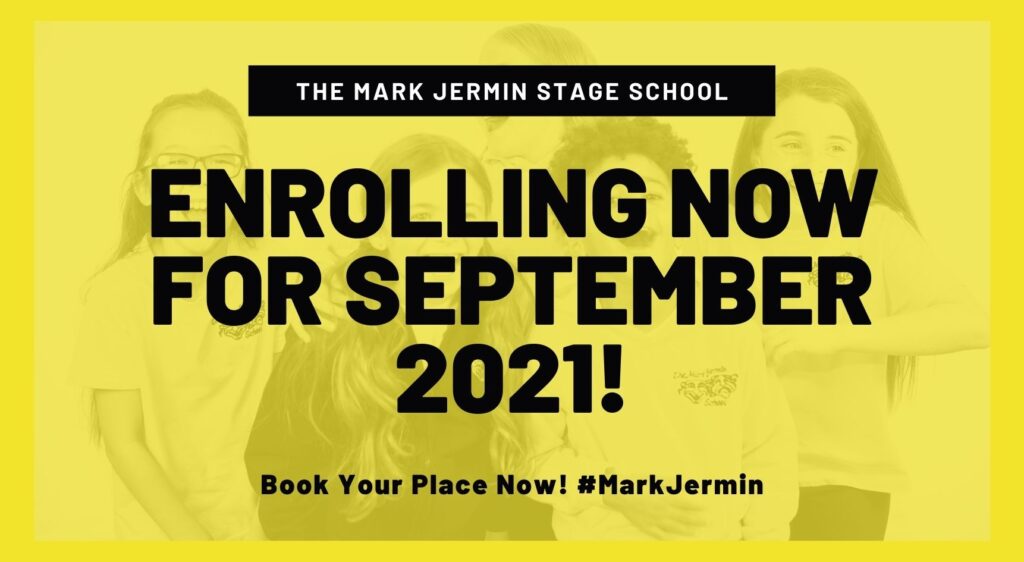 The Mark Jermin Stage School Penarth continues to train and develop the careers and build confidence in Wales' most exciting up and coming talent. 
Our "In Person" classes are high energy, innovative and dedicated to getting the best out of each and every individual. Through a variety of exercises, projects and performance pieces, the students gain their performance skills, develop confidence and best of all, make new friends and feel part of a unique and welcoming community.
Our tutors are always on hand to assist students with anything they need and also work with the students to design a creative and challenging class that all children find motivating and enjoyable.
In each class, we aim to explore at least two of the three main disciplines meaning each students will leave the class having developed at least two skills. This balance is determined by what projects or performances the class are working towards and also what specific areas the class may enjoy or need to develop further. 
Classes are catered in the following age groups:
Juniors (4 – 7 years)
Intermediates (8 – 11 years)
Seniors (12 years and above)
When and Where?
Following the lockdown period, the team at Mark Jermin are excited to announce that we are returning in person sessions during our summer term!
 The classes are split into the following age groups to run at the following times:
Juniors : 5.00pm – 6.00pm
Intermediates : 6.00pm – 7.30pm
Seniors : 7.30pm – 9.00pm
The Penarth Mark Jermin Stage School is held at:
Penarth Methodist Church Hall, Woodland Place, Stanwell, Penarth CF64 2EX

Keeping You Safe. Our Covid-19 Policies at The Mark Jermin Stage School: 
At The Mark Jermin Stage School, the health and well being of our students, parents and staff is our upmost priority. All staff are trained in Covid-19 safety and prevention and we we have a full Covid-19 Risk Assessment in place. 
As an Organisation we are constantly monitoring the Government guidelines and working with our Venues in keeping our classes to run as normal as possible whilst keeping everyone safe. 
For the forthcoming term ahead, If for any reason our weekly classes are unable to go ahead in person (due to an enforced Lockdown or due to restrictions within the Venue) our experienced team will adhere and deliver the classes online, meaning the momentum of the Term isn't lost and classes will continue to run for all students meaning fees won't need to be refunded. We will adapt our term accordingly to ensure that the training, classes and opportunities for our students never stop. Our  staff who are extremely creative and confident in delivering highly engaging classes across all age groups on Zoom will ensure that all students are made to feel comfortable and confident despite their online training.  More information can be given by speaking to our team directly.
Mark Jermin Management: Every student who attends our Penarth Mark Jermin Stage School will have the (optional) opportunity to be represented by Mark Jermin Management, the Uk's leading Youth Agency for Young Performers. More information on Mark Jermin Management can be found here
The September 2021 Term runs from:
FRIDAY 17TH SEPTEMBER
to
FRIDAY 26TH NOVEMBER
 Fees for the In Person sessions at Mark Jermin:
To now join the remainder of the Summer Term and be in class in person, the prices are as follows:
£80 Juniors (60 minute classes)
£120 Inters / Seniors (90 minute classes)
To book your place please complete the form below to reserve your place and pay your fee ahead of attending your session. 
For details of sibling discount, please contact our team.
Gift Packages and Gift Vouchers are also available for all our Students. Please contact our team on [email protected] to request.
Register and Book Your Place at our Penarth Junior Classes
Register and Book your place at our Penarth Intermediate and Senior Classes