A truly unique baby and parent class to stimulate the senses of your little stars! 
Let you and your little shining star explore a world of imagination in our multi sense surround class experience. This is your baby's very first introduction to play, light, sound and exploring their creativity. Start their journey the most special way you can with Centre Stage Senses.
Centre Stage Senses is produced and brought to Venue No.1 by The Mark Jermin Stage School whom have over 25 years experience of working and developing children's confidence, and key communication skills via the world of song dance and storytelling. These highly imaginative and creative classes will use theatre as its stimuli to welcome you and your babies into a world of play!
Calling all PARENTS and your little shining stars to explore a world of imagination in our multi sense surround class experience!
WHERE / WHEN:
Held on Monday Mornings in the Studio Theatre at Venue No.1 Swansea
Choose to attend your class starting at either: 9.45am or 11.15am
Classes run for 50 minutes
ALL INCLUSIVITY:
Welcome little stars to Centre Stage Senses! This is a weekly class perfect for baby and parents who are keen to explore sensory play and development for their little ones in a superb space with a brilliant lighting and sound design specifically catered to each class. These unique classes aim to stimulate all senses of your little star as they learn, grow and develop from our classes.
These 50 minutes classes are suitable for newborns through to 12 months and classes and activities can all be adapted and catered for depending on the age and capability of your baby. Each exercise will be led and explained by an Early Years specialist and Teacher who is able to demonstrate and help all parents with the class.
This is an excellent opportunity for new parents to meet new friends and for "lockdown babies" to interact and develop with each other.
Each class will involve its very own Soundtracks specially written for Centre Stage Senses and all of our sound design is binaural, surround sound.
This class is extremely popular and has limited places.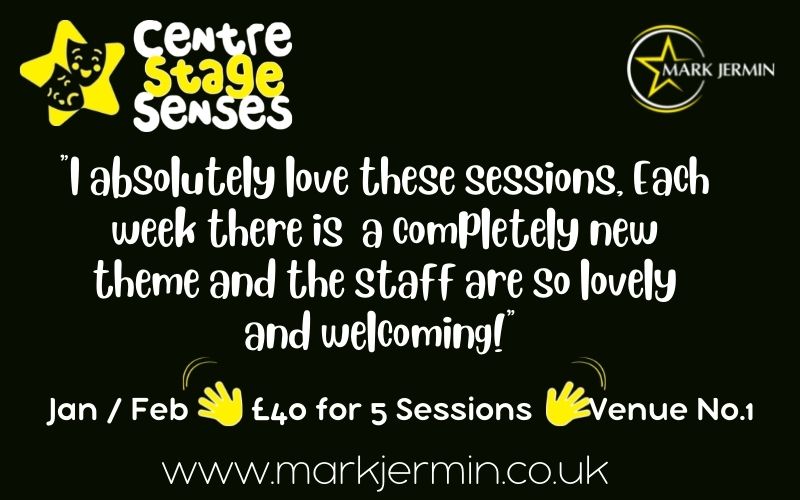 About Venue No.1 and our Studio Theatre
♦ Free secure off road parking in our spacious and pram friendly car park.
♦ Disabled and Pram / Buggy friendly access to the Class and Studio Theatre
♦ Free wifi on site
♦ Cafe on site
♦ Venue No.1 is easily accessible from M4 and Swansea City Centre 
Keeping you Safe:
Due to Covid Safety and provisions under Welsh Government guidelines, Classes must be booked in advance. Your booking details also act as our Track and Trace along with our weekly register. All paid and enrolled participants get sent a detailed welcome update prior to their first class each Term with the updated Health and Safety protocol on how we are adapting our classes under the specific restrictions / allowances outlined via Welsh Government. This includes Entry and Exit to the class and maintaining safety through the class including social distancing, regular sanitising of all props, mats and items as well as the regular cleaning of the room between classes
BOOK NOW: Bookings are made in 5 week blocks and places in each class ar very limited so ensure your space is secured by booking now so that your little star's potential is maximised by our superlative team!
#centrestagesenses #markjermin 
Book Your 5 Weeks of Classes.
£40 for 5 sessions.
Monday 17th Jan - Monday 14th Feb :
Book Your Single 1 x Class here (£10 for individual session)